2
Official forums down
Started by
Darmokk
,
Jun 04 2012 20:51
102 replies to this topic
Posted 31 July 2012 - 05:27
I found this lovely meme on reddit that is completely unrelated to this thread.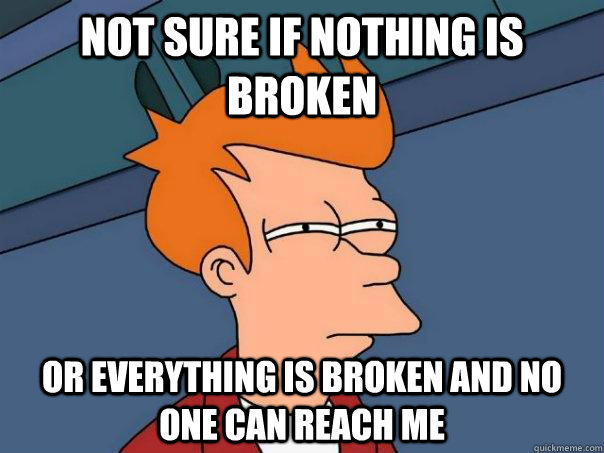 Joe "Jwbarry" Barry:
"... because there was a thread in the book to hang ourselves from..."
Sapience:
"No gear is permanent. Characters 'out grow' their gear."
"We will not sell end-game gear. "
"Apparel Dummy is no more. They'll now be called Mannequins"
Orion:
"Something needs to go here"
Proud Officer of
Strikeforce
[
Hero
] on
Dragonbrand
---
Posted 31 July 2012 - 07:55
Laurinaohtar, on 27 July 2012 - 16:46, said:
I guess it depends how he's defining "on call". If he's on call, paid some kind of "on call" rate, not allowed to get drunk, not allowed to leave cell coverage etc... 24/7/365 then, well frankly apart from possibly being illegal he must be incredibly depressed and bored!

I'm not even sure surgeons are on call 24/7 365 days a year

Well, in theory I'm also 24/7 on alarm duty, although I can just walk to HRM department if I want a replacement because of vacation for example; If I forget to do that, it's my responsibility to handle the phone calls and make sure somebody will check why there is an alarm, even if I'm on vacation and I forgot to arrange a replacement;
I can't imagine they are forced to have 24/7/365 availability, I can imagine it's his own responsibility to make sure someone else is available if he isn't.
---
Posted 31 July 2012 - 12:59
I just assumed he meant that if he's off on vacation somewhere and there's a major breakdown of the game servers, he can get in touch with home base, then use a smartphone to post on the forums, FB, and Twitter about the situation for the edification of all.
Assuming the forums are up

Assuming somebody called somebody else about this and they're able to assess the situation

Assuming the FB/Twitter feeds are accessible

Assuming the power in the area is not completely down...
Boy, we're all gonna be fucked if we ever
do
get hit with the EMP envisioned by doomsday prophets, aren't we?
"When you choose an action, you choose the consequences of that action. When you desire a consequence you had damned well better take the action that would create it."
―
Lois McMaster Bujold
,
Memory
---
---
0 user(s) are reading this topic
0 members, 0 guests, 0 anonymous users